I thought I would put a review together of what I feel are the best graphite fly rods of the last ten years. I used my experience casting all of these in 5 weights as the basis. Not surprisingly all of my choices save one are relatively new rods considering the ten year window but given the advancements in technology this is expected. These rankings are my opinion and my opinion only, I understand others may feel differently but I have had a chance now to cast just about every rod out there and of all of those these are my five favorite. Feel free to chime in with your own opinions.
5:Hardy Zenith
The Hardy Zenith is an impressive fishing tool and in the last two years especially after having won the Yellowstone Anglers 5 weight shootout it has been gaining popularity. Like many rod companies out there Hardy has a sort of cult following and here in the east they seem to be most poplar with the traditionalists. Their rods just haven't quite caught on like they should have out here. The zenith has a skeleton reel seat so there is no wood for the traditional guys and it also has single foot guides in place of double footed snakes which is a feature I'm not to big on. The Hardy gets stunning reviews everywhere its fished but I believe thats mostly due to the press its received from winning Yellowstone Anglers 5WT shootout a few years back. I think its too powerful and the 5 wt that I cast really felt like it was a six weight. It handles line well at all distances but if I can explain this correctly, despite its light weight it just felt heavy casting that 5 weight line. If it weren't for this it would be higher on the list. Another attractive feature is its price tag which comes in at less than the other rods in this review but with that said their warranty department isn't quite as good as some and you could end up paying handsomely for a repair.
#4:Sage One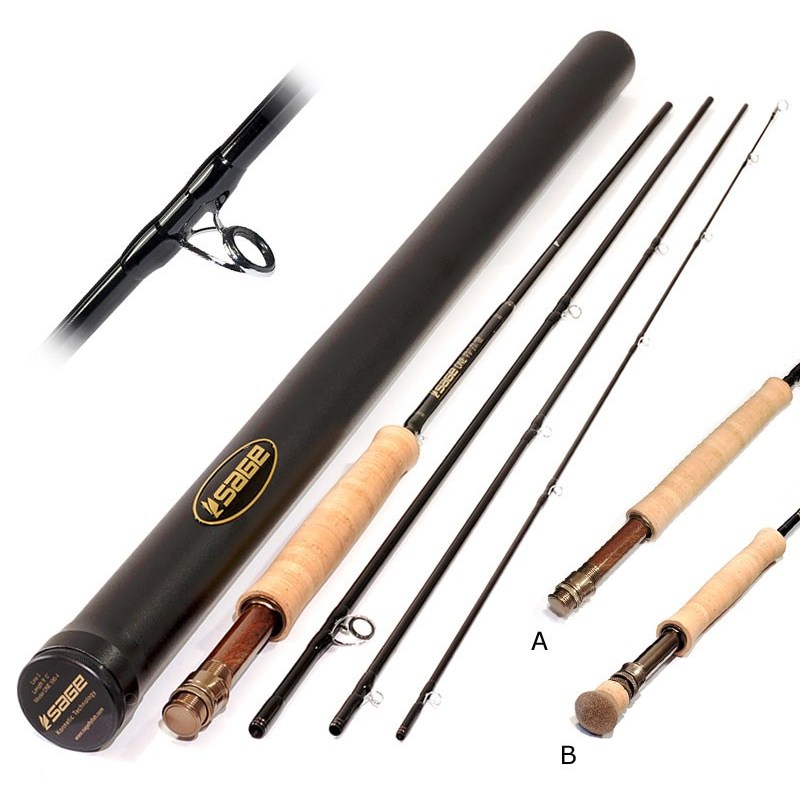 The Sage One is a rod thats at the top of many people's list but I have found like many others that many of those people are die hard Sage fans who won't shop anywhere else. The One has a black blank and the real seat hardware has a dark almost bronze finish which compliments the dark wood insert. Its stripping guide has a ceramic insert and the snake guides are hard chrome finished. Its light in the hand although it doesn't feel as light as the other rods in the lineup. The rod has a solid crisp action thats not too stiff and not too soft. The strange thing about the rod is that I felt like it performed better at long range than at short range which doesn't quite cut it for me. When I say long range I'm talking 50-60 feet plus. I know the industry and pros out there all make casting distance seem like such a big thing but the reality is that most trout fishing takes place within 50 feet. I think this rod may be at home on bigger water but for everyday use I wasn't all that impressed. It was however good enough to make it to my top five.
#3: Winston Boron IIIX
The Winston Boron IIIX is an underrated fly rod that seems to only get a real following from the die hard Winston fans.Like the Scott G2 this is a specialized rod that casts a dry fly extremely well but I feel like this rod can be a little more versatile than the G2 in that it doesn't do a bad job handling light nymph rigs either. There isn't a whole lot to say about this rod that I can explain but this rod just plain feels right when you are fishing it. Its light in the hand and has a pleasant smoothness to it while casting unlike any other rod I've played around with. But feel isn't everything. If this rod performed better with a little more weight on the end of a line I would bump this all the way to the top. Another awesome thing is the sheer beauty of this little guy. Its by far the best looking rod I have ever seen. I has sharp nickel silver hardware on the reel seat set off with a burled maple insert. The cork quality is second to none and the blank is a wonderful green color. They added some nice maroon accent wraps and each section is marked with a unique serial number which has kind of been a winston signature for a while.
#2: Scott G2 Series
The Scott G2 Series is probably my favorite trout rod of all time but its hard to give it my top ranking because it really is a specialized tool. It does one thing very very well and that's handle dry flies with a delicate presentation. I don't think there has ever been a graphite rod that presents a dry fly so nicely. The presentation is incredibly soft and the rod offers unreal control for a medium action stick. It is built in all the right ways and it's soft tip does an excellent job at protecting light tippets and long leaders. This rod also casts great for beginners because of its medium action. Its not all that common to find a high performance tool like this in a medium action rod these days. Another cool thing about it, not that this should sway any decision to acquire one, is that it is an absolutely beautiful rod. It has a natural finish blank with maroon wraps and silver toppings. The grip has an accent ring near the top of the handle and it sports a nice burl wood reel seat. You can see the graphite spiral beneath the finish. It truly is handsome. If you are a sport who likes to fish dries a lot or one of those guys who only fishes dries, you need to take a hard look at this stick. try one out at your local fly shop or take a trip to another done if you have to. These rods are also built entirely on the dirt beneath our feet.
#1: Orvis Helios Zero Gravity
The Orvis Helios rods, not the second version, the first version is the one I'm speaking of, are the finest fishing tools I have put my hands on. Through my years as a fly fisherman I was never a big fan of Orvis rods with the exception of their bamboo offerings. I changed my mind completely with the introduction of the Helios lineup. These rods are ridiculously light and have an amazing fast action with lickety split recovery speeds. You can power through a ton of line with minimal false casting and do that all while throwing with pinpoint accuracy. Another standout feature of this rod is the weight. These rods are so light you can barely feel them in your hand but even so, when matched properly with a good reel which in my case was a battenkill large arbor, they balance extremely well. This rod has been out for I believe six years and its light weight still has not been nested except by its younger brother the Helios 2. Basically the Helios is built on technology reserved for military attack helicopter blades. They incorporate thermoplastic resins in the build which in a nutshell allows the rod to stay round when it flexes compared to turning into an oval like other rods. What this does is allow for a more efficient transfer of energy down the rod making it a more powerful rod with blistering fast recovery speeds. If the Helios loses points it would be for in close performance but like any other rod a good angler can learn the rod and compensate for it. They come in a large variety of lengths and line sizes, enough to accommodate pretty much all types of fishing from bluegills and brookies to Muskies and Tarpon. They are also quite handsome with a deep olive blank with gold and maroon trim wrappings. It has a cage looking gold real seat and hardware, a high quality grip and comes in the coolest rod tube I have ever seen. The new Helios 2 is also pretty awesome but it has not been out long enough to really put it through the fires yet.
Notable New Rods
1. Mystic Fly Rods
Mystic Rods are very intriguing to me, they are a relatively new company and I've been cautious about them. A friend of mine carries and sells them and pimps them out pretty hard. I was never really confident in them mainly because of the lack of reviews and the low price point. Tom from the Anglers Den finally put one in my hands a few weeks ago and I was shocked by the quality. A smooth casting rod series with incredible feel. Their M273-2 recently won a 2 weight shootout as well.
Here
is a link to a good review on one of their models
2. Beulah Fly Rods
I wanted to throw a mention in for these boys not because I feel like they were in contention for the top five but because they make an awesome fishing rod that in their case usually fits a specialty niche. Like their two handers and the ever popular bluewater series thats making waves in the Musky world. Its an awesome stick, I bought one specifically for toothy fish and I am very far from being disappointed. Its a cannon and you can fire big flies all day in comfort compared to other rods in its category. I will also be whipping it around for reds later this year. I also have two platinum rods from their shop.